PLUNGE WITH US! 1/1/24 @ 1:24 PM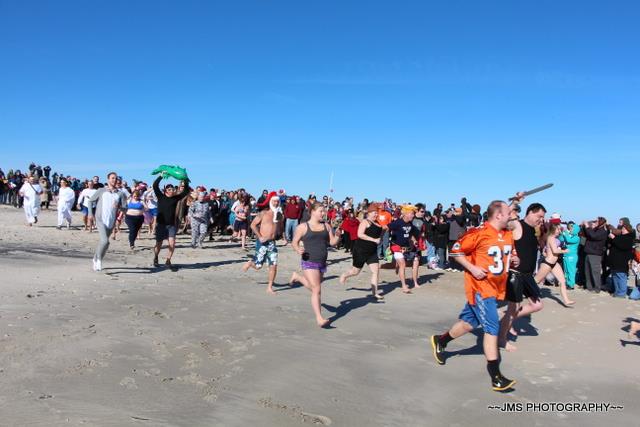 Nothing can compare to the invigorating feeling you get by plunging into the ice-cold waters of the Atlantic Ocean! It really is an awesome experience. There will be lots of fun all around. Plungers are encouraged to dress up in the zaniest, craziest costume they can come up with!
Remember, if you decide to plunge, you'll need to read and sign the Plunge Waiver and Release Form. There is NO fee to enter the water.
Don't be left out in the cold!
This is the way to make the most of the Polar Pony Plunge experience!
Plan to be at Assateague Beach for the Polar Pony Plunge at 1:24 pm on January 1, 2024 it's a Monday, and a holiday, so there's no excuse for not being part of a COOL New Year's Day tradition!
We also accept "walk up" registrations on the day of the event!
What to expect at the Polar Pony Plunge?
Please car pool to the plunge site as much as possible as parking is limited.
Online Pre-Registration is Recommended!!
If you pre-register, you go right to the Beach on Monday, Jan. 1. Our GATE KEEPERS will be there with any questions or if you need to turn in your signed waiver form. Only those with waivers are allowed into the water. Plunge and go to your car. Bring a friend who'll give you your towel or blanket when you come out of the water.
The Polar Pony Plunge will take place at 1:24 p.m. on the Beach.
Registered participants will be directed to physically distanced markers on the beach. Spectators will be on the side of the markers where they will remain throughout the event.
Too Chicken to Plunge?
You can still offer enthusiasm, and dip a finger or big toe in. Hey, be proud, and stand tall, someone had to hold the towel!
NOW IT'S TIME TO REGISTER!!!

Under 18 years old? You will need to Manaul Download and Print the Registration form & Complete the Form, with your parent/guardian before arriving the day of the event!
(Editors Note: You will need Adobe Reader to view and print the waiver & release form. You may download a free version from their site: Click here to download Adobe Reader)